Blue Jay Jazz Festival 8/22-8/24
Tavern Bay 28399 E. North Shore Road
Resort 27984 Hwy 189
Lake Arrowhead
,
CA
92352
United States
Tavern Bay Beach Club and Lake Arrowhead Resort

8/22/2019 - 8/24/2019
Thursday August 22 / 5pm - 9pm / CSUSB Jazz Ensemble and the LA Jones Quartet
Friday August 23 / 5pm - 9pm / Eric Marienthal Quartet
Lake Arrowhead Resort at the Pool Plaza:
Saturday August 24 / 11am - 2pm / Yuko Mabuchi Trio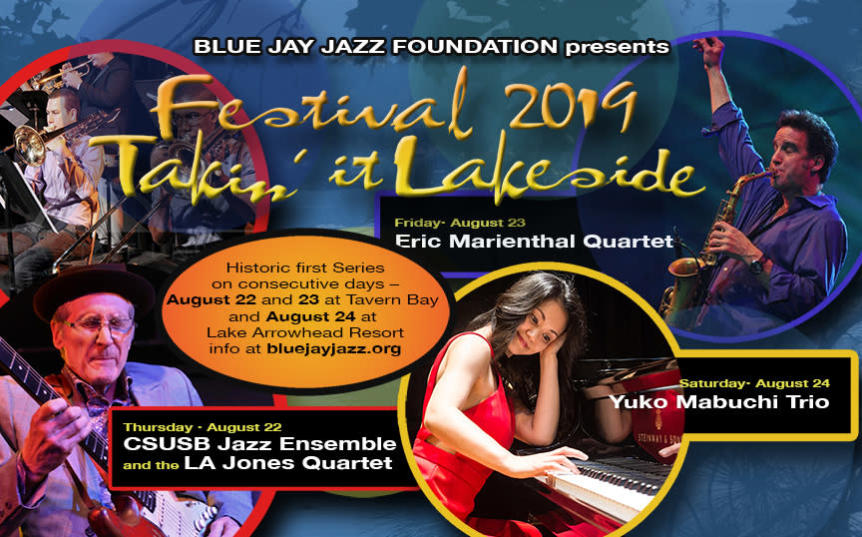 The Blue Jay Jazz Foundation will hold the Blue Jay Jazz Festival on three consecutive days for the first time in its 19-year history.
"Festival 2019: Takin' it Lakeside" will be held at the water's edge in Tavern Bay Beach Club on the evenings of Thursday, August 22 and Friday, August 23 and at the Lake Arrowhead Resort overlooking the lake on Saturday afternoon, August 24.
On Thursday, the Cal State University San Bernardino Jazz Ensemble, an award- winning 19-piece big band with four singers, will perform a wide range of Big Band, Latin jazz, vocal jazz, blues and other styles. Between the CSUSB group's two sets, the nationally renowned LA Jones Quartet featuring singer-bassist Adrianna Marie, will provide a great set of blues-oriented jazz.
Friday at Tavern Bay will resound with Grammy Award-winning saxophonist Eric Marienthal and his quartet featuring keyboardist Mitch Forman, bassist Andre Berry, and drummer Joel Taylor. This marks Marienthal's Blue Jay Jazz Festival debut.
On Saturday, the Festival moves to the Lake Arrowhead Resort for a midday concert featuring rising international star Yuko Mabuchi and her trio. Exact time will be announced later this month when tickets to all three concerts go on sale.
Gallery
Contact Organization:
Blue Jay Jazz Foundation
Contact Description:
For more information visit the Blue Jay Jazz Foundation's website, www.bluejayjazz.org, call (909) 766-BJJF (2553), or email info@bluejayjazzfoundation.org.